Care for your Drive, your Pride!
BMW & Land Rover Common Electronic Problems
Instrument Cluster
For BMW E38, E39 or E53 owner, failing of the digital display in instrument cluster is almost certain. The problem is so common and the remedy is also widely known. We are among the first offering repair of this in Australia, and over the years we have refixed many damaged by previous repair attempts.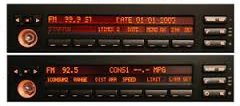 mid computer, or radio control
Adopting same design like the instrument cluster display, the multifunction display for radio and onboard computer suffers from the same problem. It's just a matter of time, virtually every unit will fail the same way.
onboard monitor
For cars with TV/naviation, the widescreen display also has common problems: pixelated LCD, screen not turning on or off, rotary control fails, night light fails, freezing controls, battery draining etc.
Navigation Computer (NAV drive)
For cars with satnav, most common faults are not reading or accepting disc (CD, DVD alike). Other than that, many of these drives will just refuse to work showing blinking light, or drain the battery. We are also developing alternative solutions to replace BMW nav drive by a more modern navigation box that works with other integrated features in the car.
Radio Module
For cars fitted with the flat pin radio module (BM53), many encounter losing sound channel(s) until radio goes completely silent. It's also fairly common to have FM and/or AM radio failed, or cracking noise, or worst of all the radio doesn't turn on at all. 90% of time when you have problem with the sound, it's caused by this module.
Other Common problems that we fix
Key remote: doens't open/lock doors
central locking fault
In-dash radio
CD changer
amplifier
Seat memory, steering column adjustment
window regulator, sunroof
parking distance control (PDC), or reverse sensor
Auto wiper/headlight control
airbag & seat occupancy spordaic errors
air suspension control system
self-leveling headlight, xenon light control