Care for your Drive, your Pride!
Multifunction Display Repair
ribbon cable job, but it's not exactly simple as it seems
Since late 90s, multifunction display using dot matrix liquid crystal panels started replacing dozens of instrument lights and became popular. From onboard computer display to climate control and radio information, these displays virtually disable many functions when they fai.
The displays requires some form of flat connectors from the display glass back to the circuit board, which is usually referred to as ribbon cable. While the cable may last, the bonding between it and the glass and/or the PCB doesn't. And of course, the display may fail due to other causes too.
As many Internet forums have written, the solution to failing displays is to replace that ribbon cables. However aligning multiple tiny pins with precision usually less that 0.5mm is not a simple job. Information on most popular multifuntion displays is summarized below to help you to verify the problem and assess yourself if you want to DIY.
BMW and range Rover Multifunction information display (MID)
This MID computer is found in BMW E38 (7 series 96-01), E39 (5 series 98-03), E53 (X5 1999-2006) and Range Rover L322 (02-10). This is a common problem and and very well documented all over the Internet. The ribbon cable involved has 513 pins which is pretty hard to align. From our experience if you want to DIY please note the followings:
- The display glass may not match exactly ribbon cables purchased from eBay. If you miss a pin, you miss a line. We do have to cut and sticht the ribbon at times.

- The display glass may have damaged pin, it happens quite often.

- It's very trickly to mount the ribbon accurately then secure it. At factory this is done by a machine.

- If you want to use heat sealing, be prepared to order a few cables because if you make mistake, you need to start with a new cable.

- Be very patience because it may take few dozens time to get it right, if you eventually do.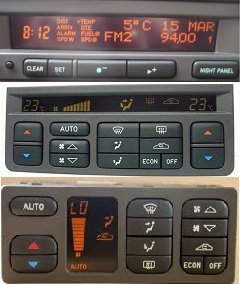 SAAB Multifunction Display (SID) and Climate Control Display
Despite of being a minority in numbers of cars, SAAB is notorious about failing all its in-car LCD display due to high rate of failure.
The multifunction display is called SID, SID 1 is fitted in cars up to 1998 and SID 2 is after then. Replacing ribbon cable for SAAB is relatively easier that DIY-ers can attempt. The ribbon need to be hot sealed into both LCD glass and the circuit board.
For SAAB 9-5 climate control display, it requires desoldering of a little circuitboard to get into the ribbon cable so if you have never done soldering before, don't try it.
SAAB 9-3 climate control display will definitely requires heat seal ribbon cable, or a whole new replacement LCD galss with cable of which the connector can be soldered into the circuit board.
Newer 9-3 has climate control screen similar to 9-5, however this model is not known to have failing display.
In this page, we list only the most common problems. Please contact us if you want to find out more about problems from other cars.