Care for your Drive, your Pride!
Navigation System Repair
Used to be a luxury otion, it's now a necessity
It's hard to cope with traffic conditions and travel demand around big cities without a navigation system these days. And in-car navigation systems of prestige vehicles, are much better engineered compared to ones running on your phone, which many think they are "free".
German made navigation system has internal gyroscopic sensor and speed input from the vehicle, allowing accurate navigation when GPS signal is missing such as in tunnel and thin GPS coverage areas. Portable GPS navigation devices, including smartphones, are no match when it comes to reliability and accuracy.
In this page we list down most navigation systems for most popular prestige cars together with their most common faults, aiming to help drivers to make the right decision to get the problem fixed without beating around the bush.
BMW and Land Rover Navigation system
BMW navigation system has a few generations, tied up with evolution of the car's whole electronic system:
1. I-bus system: still the most popular on the road, present in most of BMWs and Land Rover car from late 90s up to to 2006. BMW has navigation computer housed separately in a device looks like a normal DVD drive, the screen in front of the driver is nothing more than monitor and control keyboard. These are most common problem with i-bus navigation system:

* Navigation Computer problems: the early MK1 and MK2 devices are basically out of service, most popular are MK3 (CD) and MK4 (DVD). Most known faults are:

- Disc read error, not accepting disc: this fault is particularly popular with MK3 drives that use CDM-M3 mechanism. In many cases, replacing the laser lens doesn' solve the problem as the fault is caused by control chip.
- Not powering on: it's common for both MK3 and MK4 that when power supply is cut abruptly, there's a chance that flash memory is left in unusable status. Just like your PC, it cannot boot up if memory is not accessible. Unforunately unlike your PC which can be fairly easy to recover, it involves a complex process to recover a BMW Nav Drive in that status. And in many cases, it's permanently damaged.
-

Battery Drain

: the device is designed to go on sleep shortly after ignition switched off. Faulty power management circuit may prevent this to happen and/or waking up the device errantly.

* Display Monitor problems: cars from 1996-1999 has 4:3 small screens that are now end-of-life and not worth repair, the better solution is to upgrade to widescreen. BMW widescreen is made by Alpine and reported to have these common problems:

-

Pixelated LCD screen

: the LCD panel is not repairable, the only solution is to replace the panel.
-

Battery draining

: the monitor is deisgned to turn on upon wake-up signal such as door opening, but faulty watchdog circuit may turn it on errantly. The monitor also may fail to put its microprocessor is low-power mode. As long as the microprocessor is not faulty, it's reparable.
-

Not turning on

: this problem could be caused by something as simple as a failed power supply component, could be as complex as the battery draining situation in a reserve way, that the microprocessor is not woken up upon correct signal.

2. iDrive System

: due to amount of content, information for iDrive system is going to be presented in a separate page.
Mercedes Navigation System
Best known as COMAND (COckpit MAnagement aNd Data) system, Mercedes also has a long history of development.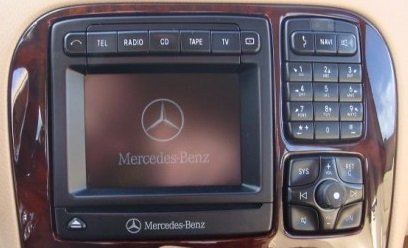 * Comand 2.5: Confusingly, this is the first Comand system and 2.5 refers to size of the unit (2.5DIN). fitted in S-Class W220 and CL C215 and SL R230, it has proven reliability though its technology is no longer appealing these days. Being a dinosaur, but engineered for first class, this model is not known to have many problems.

* Comand 2.0: We see this in E-Class W210, C-Class W203, CLK, and so on. The unit is 2 DIN size, was still made by Becker however lower manufacturing cost has its toll. Known problems include failing LCD panels, disc read error and battery drain. It's worthwhile to upgrade to NTG 1 instead of repair.

* Comand NTG 1: First introduced in E-Class E211, it then went to facelifted C-Class from 2004, CLK, ML (W164) and even the Vito/Viano. This is the most popular Comand model out there, with these common problems:

- Not booting up: The system stuck at Mercedes logo. If it's not caused by some fault along the fiberoptic line then repairing this is quite costly.
- Not reading/ejecting disc: Need new laser lens, sometimes the whole DVD mechanism need to be replaced.
- Draining battery: The system doesn't turn off when key removed, or turns on errantly.

* Comand NTG 2 is a cheaper version with smaller screen,and also less popular. NTG 3 and 3.5 only fitted in S-Class W221 and CL W216.

* Comand NTG 2.5 can be considered an upgrade to NTG 1, with minor change in the interface and include a SD card reader. Inside, it has a HDD drive, 6-DVD changer and HD LCD screen. Known problems are:

- Software Problems: Ranging from mp3 files reading from SD card to whole system hangs completely.
- LCD screen failing: The only solution is to replace the panel.
- Not working properly after power lost: Running a complex software, abrupt power cut (battery gone or fuse blown) may have dire consequence resulting in expensive repair.

* Comand NTG 4 has a separate screen on top of dash, first introduced in W204 C-class start from 2009. NTG 4.5 in fact is a cheaper version with smaller screen. The system is still quite new for problems to pop up, however having a separate screen would make repair/replacement less costly.
In this page, we list only the most common problems. Please contact us if you want to find out more about other cars .